Leading AC Rotor Manufacturing
AC Rotors | Copper Rotor Bars | Copper End Rings
AC Motor Rotor Manufacturing
Electric Materials manufactures and supplies AC Rotors through the use of custom manufactured tooling and dedicated equipment. Our experienced staff produces AC rotors of the highest quality. From the initial stacking operation for the core, through to the final dynamic balance operation, all steps are subjected to very stringent monitoring as part of our ISO 9001:2015 Quality Control Plan.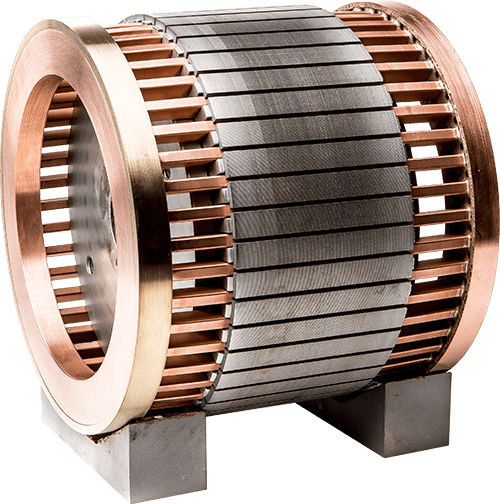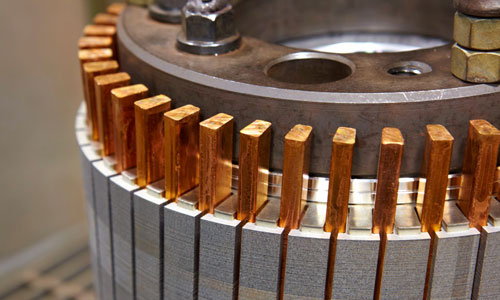 AC Motor Rotor Component Supply
We specialize in the supply of copper components for the repair of AC rotors in the field. We invite you to send us your engineering drawings or bar and ring samples for evaluation. Our laboratory is equipped to analyze the chemical composition of your product quickly, and our engineers will offer the exact copper alloy to achieve optimal performance. Proper matching of alloy composition & chemistry is critical to making the desired motor performance.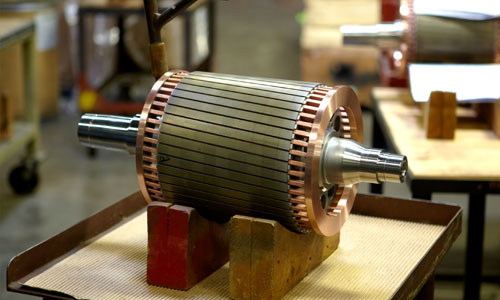 Superior Copper Rotor Bars
As a copper mill, our vertical integration enables us to produce the key conductive elements of the rotor assembly in-house. Our copper mill produces the rotor bars from initial cast billet production through the extrusion and drawing processes. We monitor and control the chemical, mechanical and dimensional properties of the material through each step of manufacturing. Finally, the rotor bars are cut to length per customer specifications. Small lot quantities are available which reduces the overall project cost and ensures a quick turn-around.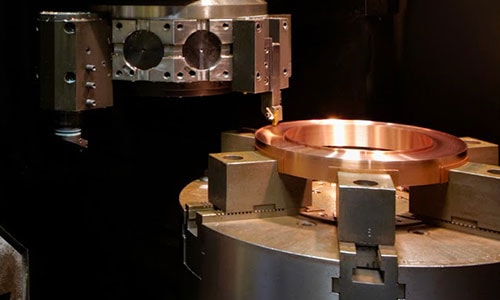 Affordable Copper End Rings
The copper end rings are a very critical component in the construction of a quality AC rotor. The rings must be mechanically capable of withstanding the high motor RPM's, and severe duty conditions often seen in traction motor applications. Many of our end rings are centrifugally cast in our foundry and then machined to precise dimensional tolerances. The centrifugal casting process produces an exceptionally pure alloy free from impurities, oxygen, porosity, inclusions and provides a very refined grain structure which exceeds the strength of static cast rings. For motors with exceptionally high RPM's, we recommend our roll forged rings which provide superior mechanical strength.