Expert Commutator Repair, Rebuilding & Refurbishing
REPAIRING COMMUTATORS FOR DC MOTORS 
Electric Materials specializes in the rebuilding and refilling of commutators. Our experience is second to none when it comes to refurbishing commutators. On large industrial machines, from several kilowatts to thousands of kilowatts in rating, it is economical to replace individual damaged segments. Replacing the copper and mica segments is commonly referred to as "refilling". Refillable commutators are common of larger industrial type commutators and can be constructed using external bands made of fiberglass (glass banded construction) or forged steel rings (external steel shrink ring type construction and internal steel shrink ring type construction). Disposable, mold-type commutators commonly found in smaller DC motors are becoming increasingly more common in larger electric motors. Mold-type commutators are not repairable and must be replaced if damaged.
When a commutator comes in for a repair, units are disassembled and rebuilt with new copper and mica segments using the same quality assurance processes applied to new commutators. Our engineers conduct failure analysis and then disassemble the unit inspecting each component. If the steel components are within tolerance, they will be cleaned and reused. All new hard drawn silver bearing copper bars, mica segments and hardware will be utilized to complete the unit. Depending on the application and customer requirements, the assembly will be processed to the applicable engineering instruction resulting in a finished product that is of the highest quality and will provide years of trouble-free service.
Electric Materials is your top choice for commutator rebuilding and refilling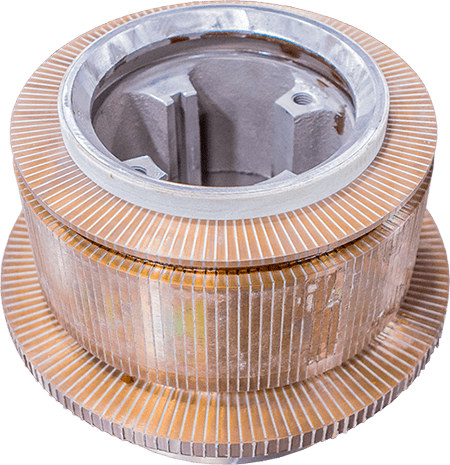 Mica V-rings & Steel Component Manufacturing for Commutators 
Electric Materials has the capabilities to replace mica v-rings or obvious electrical problems within a commutator all in-house. We work with v-bounded commutators, glass banded commutators, and external & internal shrink ring commutators. Depending on the design of the unit, some v-bound commutators can be re-insulated with new mica v-rings and steel parts. This involves repairing the mica segments between the copper bars, replacing the mica v-rings, reusing the copper bars, and adding in additional steel components. Other times, the damage is too far gone, and rebuilding the entire commutator is more cost efficient. 
Questions? Contact a Commutator Specialist Today! 
NONSTOP SERVICE IS WHAT YOU WILL GET WHEN YOU ASK FOR EM EXPRESS
EM Express is our 24/7 commitment to getting you the product you need in the shortest possible time. Whether it is a commutator repair, unique extrusion, copper casting, centrifugal cast rings, collector rings or forging, you can be assured that it will be right the first time, on time, every time.
When you need a commutator repair in a hurry, take the EM Express. This program is designed to get your commutator back to you in the shortest time possible. We will commit to a ship date that meets your schedule. When we receive your commutator, the process begins and continues nonstop 24 hours a day, seven days a week until your commutator shipped. No corners are cut, or shortcuts are taken, ever. Steel components are inspected and checked for integrity. High-quality silver bearing commutator bar is extruded and drawn in our in-house mill.
We never need to mill our commutator bar size. You get commutator segments which are manufactured to exact tolerances every time. All press and bake operations are performed as required as well as any spin seasoning or profiling necessary. You can be assured when you place an EM Express order for your commutator it will be right and it will be shipped on time.
CALL TODAY AND ASK US ABOUT OUR EM EXPRESS SERVICE FOR ANY IMMEDIATE REQUIREMENT YOU NEED! FOR A QUICK RESPONSE, CALL OUR TOLL FREE NUMBER (OR 001-814-725-9621 IF CALLING INTERNATIONALLY)
814.725.9621