Copper Alloy Collector Ring & Electrical Slip Ring Manufacturing
Collector Ring Assembly | Slip Rings | Electrical Rotary Joints
Copper Alloy Electrical Slip Ring Assembly
At Electric Materials, we specialize in the production of high-quality electrical collector rings built to deliver reliable performance consistently. Collector rings are also commonly referred to as collectors, slip rings, rotating electrical connectors, rotary electrical interfaces, or electrical rotary joints. A collector ring is an electromechanical device used to transfer electrical power or a signal through a rotating assembly. Some applications for electrical slip rings include wind turbines, alternators, air conditioning systems, and electric generators. Electric Materials manufacturers high-quality alloy slip ring assemblies for your specific needs.
Call Us Today To Contact a Collector Ring Expert
814.725.9621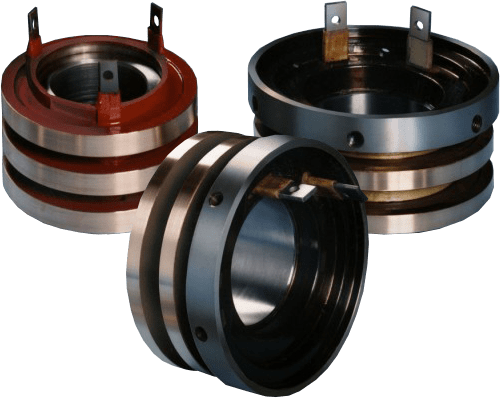 Electrical Slip Ring Design & Engineering
Designs for electrical slip ring assemblies vary greatly depending on the application. A typical collector ring design is made up of one or more conductive rings mounted on a barrel. Most rings rely on an interference fit over a barrel to hold them in place or are bolted to the barrel. It is imperative that the collector rings are electrically insulated from each other and the barrel. The slip rings and leads are often assembled from a variety of materials. A range of testing can be done to evaluate the chemical composition and electrical properties of the leads and rings. Our lab can assess the mechanical material properties including yield and tensile strength and elongation to ensure that you are getting the correct material in your finished product.
EM's full in-house capabilities allow us to design and engineer a full lineup of electrical slip rings with outer diameters from 3 inches and larger. If required, we can redesign most slip ring assemblies into a split ring style. Often larger diameter collector ring assemblies utilize the multi-segment split ring design. Multi-segment rings are cast in our foundry, machine finished and supplied with the appropriate hardware. Collector rings can then be installed and or removed without having to take the entire assembly off the shaft.
Custom collector ring manufacturing revolves around both established collector ring models and modified designs. Our team of engineers will work with you to design and manufacture a custom slip ring assembly to meet your particular alloy requirements and electrical specifications.
Slip Ring Manufacturing Capabilities & In-House Testing
With complete collector or electrical slip ring production and testing capabilities, The Electric Materials Company ensures that every collector or slip ring assembly that leaves our facility is built to the highest quality standards. Only the best alloys, micas, and insulating tapes are used to achieve optimum electrical efficiencies and mechanical performance. All materials are inspected before production begins, and all leads, brazed joints, ring dimensions, and projections are examined during the manufacturing process. Each assembly undergoes electrical testing before shipping, ensuring our customers receive high quality manufactured rotary joint, collector, or slip ring assemblies.
Our extensive history as a copper alloy supplier combined with our experience as a motor component manufacturer enables us to design, manufacture, and repair all styles of collector ring assemblies for any application. From initial collector ring design sessions to final collector ring testing and shipping, EM will stand behind the performance of your standard or custom-built collector ring. We also offer manufacturing services for collector rings, electrical slip rings, and rotary joints produced by an array of manufacturers.
Electrica Slip Ring Manufacturing FAQ
CAN YOU MANUFACTURE SLIP RINGS/COLLECTOR RINGS?
Yes, Electric Materials can supply Cu, Cu Alloy, and Steel slip rings/collector rings and assemblies.  We have also supplied split slip rings and hubs to customers requesting Electric Materials to produce a split design.
WHAT TYPE OF COLLECTOR RING/SLIP RING ASSEMBLIES DOES EM MANUFACTURE?
Electric Materials produces many varieties of slip rings/collector rings.  The lead configurations we have manufactured include strap type, stud type, and wire connections.  The construction configurations we have manufactured include shrunk on type, flange type, hub type, and bolted type.  As far as ring materials, we have manufactured slip rings/collector rings out of many different Cu alloys, along with many different alloys of steel.