Copper Casting Manufacturer
Sand Castings | Centrifugal Castings | Permanent Mold Castings
Copper Casting Manufacturing
Since 1915, Electric Materials has specialized in the casting, fabricating, and machining of copper alloys for a wide variety of industries. Some of the castings we provide are:
Sand CastingsCentrifugal CastingsPermanent Mold Castings
As a copper casting manufacturers, Electric Materials produces fabricated components that encompass a vast array of products for both electrical and mechanical applications that are cast using sand casting, centrifugal casting, and permanent mold casting. With decades of experience, you can count on our component manufacturing process, metal working capabilities, and production methods to be held to the highest standards.
Copper Alloy Casting Capabilities & Products
Electric Materials turnkey manufacturing and product development capabilities are key to achieving the most cost-effective products to meet customer requirements. No matter what the volume is, our staff at Electric Materials are committed to your success by supplying high-quality copper casting manufacturing, sand castings, centrifugal casting, permanent mold castings including the following:
Custom copper alloys
Castings weighing a few ounces up to 600 lbs
Minimum cast size: Governed by 1/8" minimum thickness in any area
Centrifugally Cast Rings up to 44" diameter, max 1000 lbs
Small billets cast with custom alloys for extruded products
Some of the common copper casting products Electric Materials cast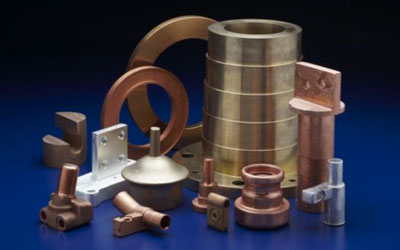 Raw Cast Copper Transformer Bushings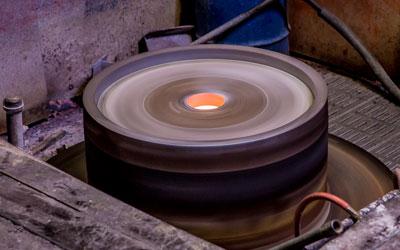 Machining Centrifugally Cast Copper Rings
Quality Systems
All castings are inspected regularly throughout the manufacturing process. Pre-pour chemistries are evaluated to ensure proper alloy composition and compliance with customer specifications, making Electric Materials a trusted copper casting foundry for your specific casting needs. EM is compliant with the following quality regulations and standards needed for all copper, sand, permanent mold, and centrifugal castings:
ISO 9001:2015
MIL I 45208
U.S. NRC 10 CFR 21 and 10 CFR 50,B
Other In-House resources that support the manufacturing of copper, permanent mold, centrifugal, and sand castings include:
Fully equipped lab for chemical and mechanical analysis
Certified ingot
Metallurgist
Heat treat facilities
Sand test lab
Fully equipped machine shop
Optical emission spectrometer
Pressure testing
Liquid penetrant testing
Mechanical fracture testing
Silver and tin electroplating
Preferred Copper Alloys for Sand Casting
| UNS No. | Common Name | Typical Applications |
| --- | --- | --- |
| C80410 | Cast Copper | Electrical terminals |
| C80900 | Cast Copper | Electrical terminals |
| C81100 | Cast Copper | Electrical terminals |
| C81500 | Chrome Copper | Electrical terminals |
| C83400 | Chrome Copper | Electrical terminals |
| C83450 | Red Brass | Electrical terminals |
| C87610 | Silicon Brass | Bearings, valve parts, rocker arms |
| C90300 | Tin Bronze | Bearings, bushings, gears |
| C90500 | Tin Bronze | Bearings, bushings, gears |
| C92200 | Leaded Tin Bronze | Valves, fittings |
| C95200 | Aluminum Bronze 9A | Bearings, bushings, gears, guides |
| C95300 | Aluminum Bronze 9B | Nuts, gears |
| C95500 | Nickel-Aluminum Bronze | Bushings, gears, worms |
| C95600 | Aluminum-Silicon Bronze | Electrical connectors, gears, terminals |
Additional cast copper alloys are available upon request. View our Copper Alloy Compositions Chart HERE