A Copper, Chrome Copper, Bronze, & Brass Forging Manufacturer
A Copper, Chrome Copper, Bronze, & Brass Forging Manufacturer
Electric Materials has been manufacturing quality copper, bronze, and brass forgings for over 100 years to a wide variety of industries including the electrical, transportation, and mining markets. High-quality forgings in high conductivity copper, chrome copper (conforming to RWMA Class II), and brass or bronze are available to meet your requirements.
With over 420,000 square feet of manufacturing space available, our large facility offers several key facets of copper production. In addition to our forging capabilities, we offer extrusion production, sand & centrifugal castings, assembled fabrications, complete component machining, brazing & welding, commutator manufacturing, AC rotor manufacturing, heat treating, and electroplating.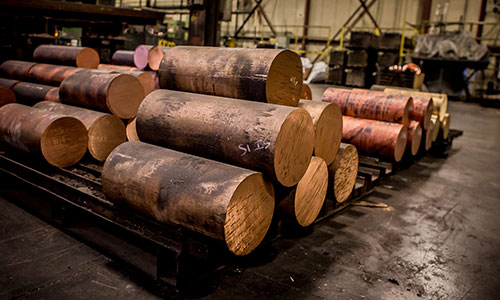 Choosing the Right Material
With almost 50 different non-ferrous copper alloys available, our engineering team will help you select the right material and process to produce a final product meeting all of your forging requirements. View our complete listing of available alloys HERE.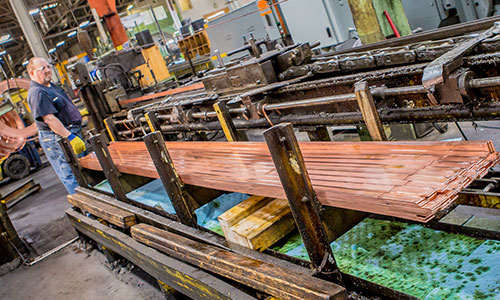 Obtaining the Right Non-Ferrous Material
As a vertically integrated specialty copper mill and forging manufacturer, EM produces its own forging stock. Materials are manufactured in our extrusion mill and foundry. Mechanical and chemical properties are certified by our in-house metallurgical lab. Outsourcing raw materials are eliminated, minimizing lead-times.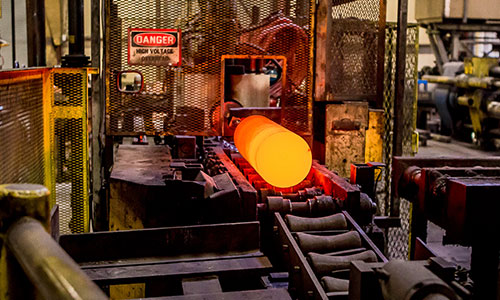 Processing the Material
Often several operations or processes must be done to achieve desired material properties. All procedures can be done in-house, shortening your lead-time and delivering a finished product to you. We are your single source for quality copper, bronze, and brass forgings, complete metallurgical lab testing, and certifications.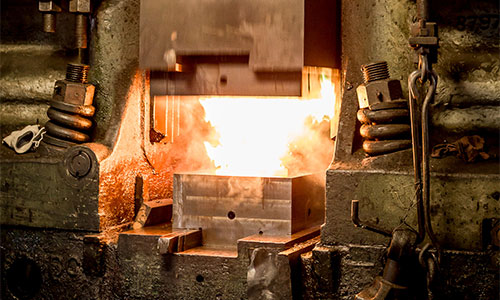 Copper Forging Capabilities & Equipment
Electric Materials' forge department is equipped with a full complement of 800 to 3500-pound drop hammers. Special presses are also available for close tolerance work, enhancing surface finish, flatness, and mechanical properties. Forging, trimming, and coining dies are produced in-house by our experienced toolmakers up to a maximum die block size of 24" x 24".
Our engineers will design the tooling best suited to your product, and our in-house tooling production equipment will fabricate the forge dies. Whether your requirements call for one piece or several thousand pieces, our forge can process your order quickly and efficiently. Parts weighing as little as a few ounces or up to 100 pounds can be easily accommodated.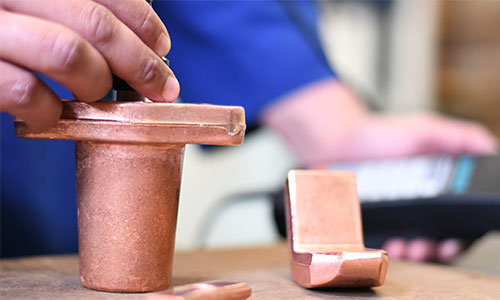 Quality Systems and Compliance
Quality and dependable service are our primary concerns, and all forgings are designed, engineered, manufactured, and tested to the highest standards. All forgings are regularly inspected throughout the manufacturing process. A quality finished product begins with quality raw materials, and at EM, this process starts with pre-pour chemistries since we produce our billets and castings. Chemistries are evaluated to ensure proper alloy composition and compliance with customer specifications.
EM is compliant with the following quality regulations and standards:
ISO 9001:2008
MIL I 45208
U.S. NRC 10 CFR 21 and 10 CFR 50, B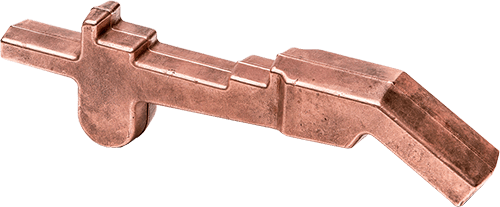 Advantages of Non-Ferrous Forgings
Increased mechanical strength
Used for increased stress applications
Voids or gas pockets are eliminated
Consistent material properties
Near net shape(s) eliminate expensive machining operations
Near net shape(s) eliminate expensive fabrications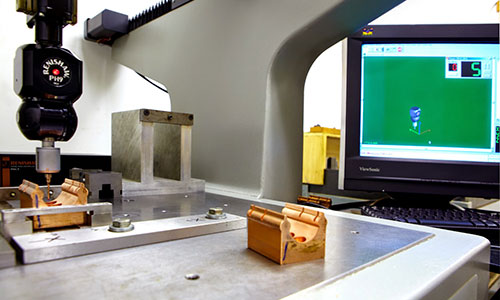 In-House resources that support our forge and inspection operations
Fully equipped lab for chemical and mechanical analysis
Certified raw materials
Staff Metallurgist
Heat treat facilities
Fully equipped machine shop
Optical Emission Spectrometer
Pressure Testing
Liquid Penetrant Testing
Mechanical Fracture Testing
Silver & Tin Electroplating
Greensand foundry