Custom Copper Sand Casting & Copper Alloy Manufacturing
Copper Castings for Power Generation and Distribution Industries
Electric Materials has been manufacturing quality copper sand castings for over 100 years. Since then, we have evolved into a diverse and vertically integrated manufacturing company that serves as a global power generation market.
As a leading name in the power generation and distribution industries, we have developed extensive experience in providing custom copper alloy sand castings for a wide variety of electrical and mechanical applications. Electric Materials specialize in delivering high conductivity copper and copper alloys that meet the most stringent requirements for purity of composition, conductivity, and mechanical properties.
Providing dependable services is our primary concern, and all custom sand castings are designed, engineered, manufactured, and tested to the highest quality standards. Our trained craftsmen are knowledgeable in metallurgy and take great care in proper mold preparation and melting practices ensuring optimal cast results, making Electric Materials a trusted resource for your specific and customized sand casting needs.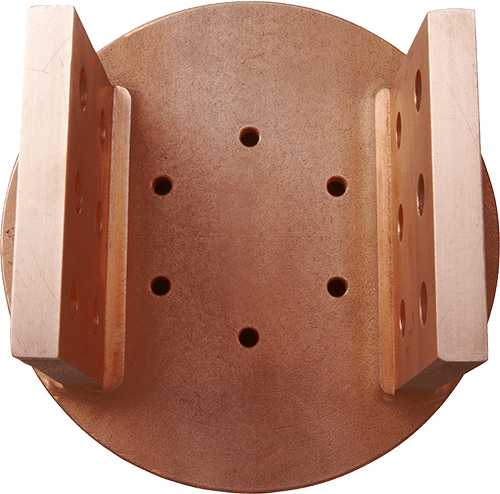 We support our customers' sand casting requirements with the following services:
Product design assistance
Engineering evaluation utilizing SolidWorks, Design Evaluation Software, and AFS Solid Cast
Pattern maintenance & repair
Core making equipment
Complete finish machining
In-house silver & tin electroplating
The static cast foundry area includes our "green sand" and "no bake" operations with sand management and reclamation systems. Casting operations can accommodate:
Custom copper sand casting alloys
Castings weighing a few ounces up to 600 lbs
Minimum cast size: governed by 1/8" minimum thickness in any area
Centrifugally cast rings up to 44" diameter, max 1000 lbs
Small billets cast with custom sand casting alloys for extruded products